Setup and management of Linkedin Ads
Linkedin Ads Agency in Dubai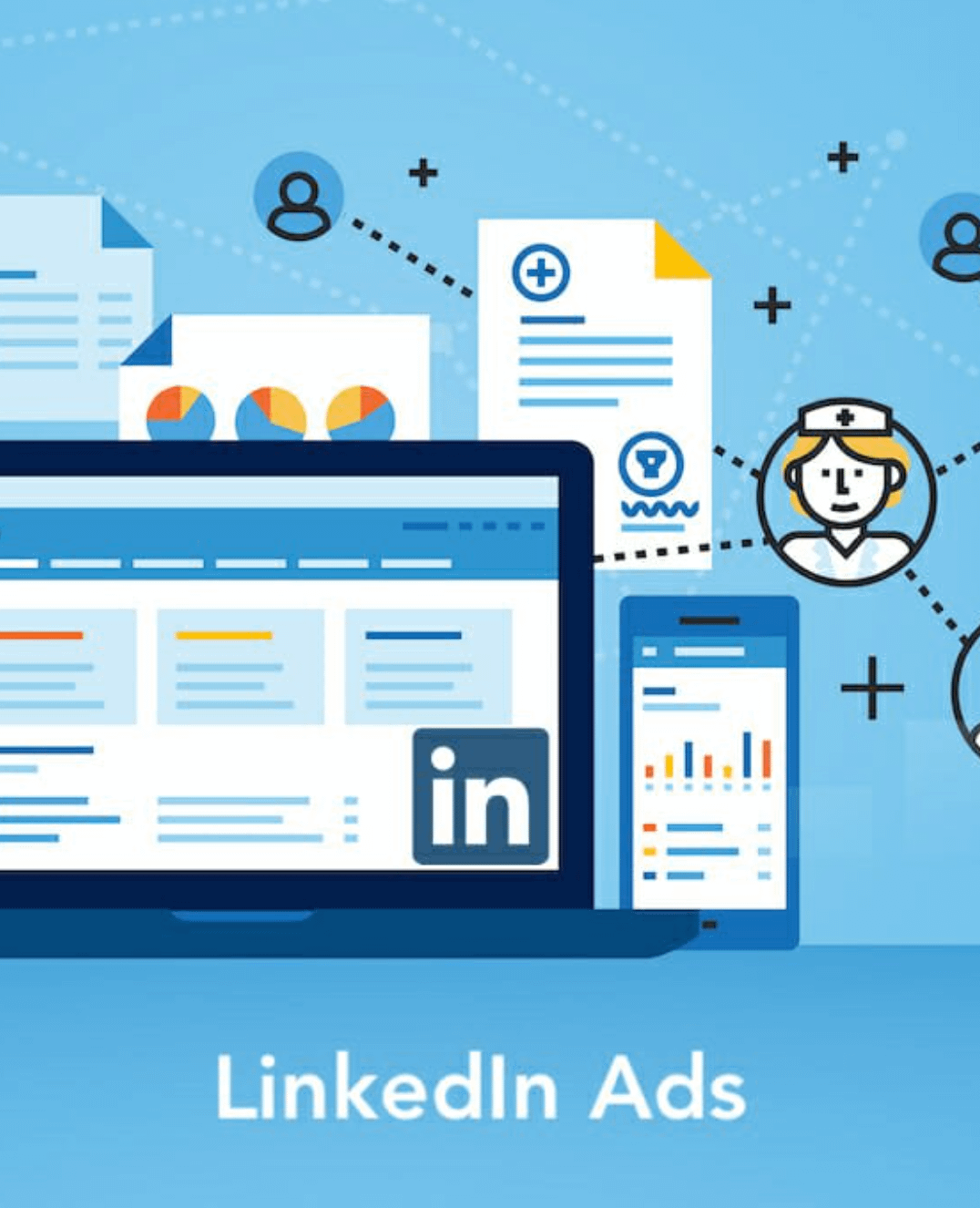 What are Linkedin Ads?
In the ever-growing world of social media marketing, there is a secret diamond in the rough that many companies overlook: the power of targeted advertising to one of the most unique networks in existence – LinkedIn advertising.
If you are an entrepreneur or brand leader, you know that success hinges on being seen and heard by your customers. Whether they are loyal, long-term clients or customers to-be, a targeted advertising campaign is vital for connecting your products and services.
When it comes to the raw numbers, LinkedIn comes out on top as a leader in connecting B2B leads through social media advertising. Some studies have shown that for every five leads that are made to B2B companies online, four of those come through LinkedIn! While the rest of the world is turning to Instagram, Snapchat, and Facebook for memes and clickbait content, true professionals across the Middle East are looking to LinkedIn to find quality brands to connect with and purchase from. Will you be one of the four?
Access An Untapped Pool of Professionals
As of November 2019, there were nearly 660 million LinkedIn users spread across 200 countries around the globe – including the Middle East's own diverse field of professionals. Imagine having access to some of the greatest minds in the business world – and their pocketbook as potential clients!
The days of having the "right connection" are long gone. In today's online network, all it takes is some clever advertising to stop the scroll and connect with your next best customer or client. The only question is – do you have the right team to help you take the next steps to creating the best LinkedIn ads for your brand?
The expert media partners at Qemy can help you build and implement a social media marketing strategy that connects your brand with the top client audience across LinkedIn's professional platform. No matter your brand, we can connect the dots and make LinkedIn marketing your most valuable lead resource.
Acces to The World's Largest Business Network with our LinkedIn Ads
So what makes LinkedIn ads different from the usual Google SEO and other mediums? Simple: LinkedIn not only brings together the brightest minds in business, but also the best brands – right to your company's front door! With a carefully curated marketing strategy, you can use a single medium to engage with the best and brightest in the business!
At Qemy, our team is skilled in harnessing the power of LinkedIn's Targeted Advertising system to ensure that your brand stands out from the competition. After all, using LinkedIn ads in Middle East can connect you to some of the best in the business world – so you'll need a marketing firm that can help you reach the top.
One of LinkedIn's greatest strengths is its Ad Manager system. After creating an advertising account, brands and companies can have almost limitless creativity in creating, defining, targeting, and connecting with professionals from all parts of the world!
When you partner with Qemy, our creative team will help you get started with the LinkedIn Ad Manager system to design and implement a variety of social media content, including:
Image Ads
Video Ads
Dynamic Ads
ROI-Specific Content
Sponsored Content
With a variety of mediums, you can rest easy knowing that the best parts of your product and services are being shown to exactly the right people. This isn't a shotgun approach. Qemy, finds the best ways to direct the specific content that leading professionals are looking for. When your brand rises to the top, your name will be the first to reach the most qualified buyers.
Team Up With Qemy and Lead the B2B Market in UAE
If you are reading this page, we know that you are probably somewhat familiar with the online marketing world. In fact, you may have already taken on the role of social media marketing manager yourself, and are trying to find the silver bullet of online media. Perhaps you already have a vision for your brand, but you just need a little extra… something.
With more than 90% of B2B marketers starting to discover the LinkedIn marketing advantage, the time is now to start making your mark. By joining the Qemy, team, you will find expert advice and resources to revolutionize the reach and impact of your media marketing strategy. By elevating the content that your brand has already built, you can watch the engagement rates soar as your brand appears before some of the world's leading professionals on LinkedIn.
The leads are already out there. You simply need the team to help get you there. Let's get started.
Contact our linkedIn Ads Agency in Dubai