Setup and management of Google Search Ads
Google Search Ads Agency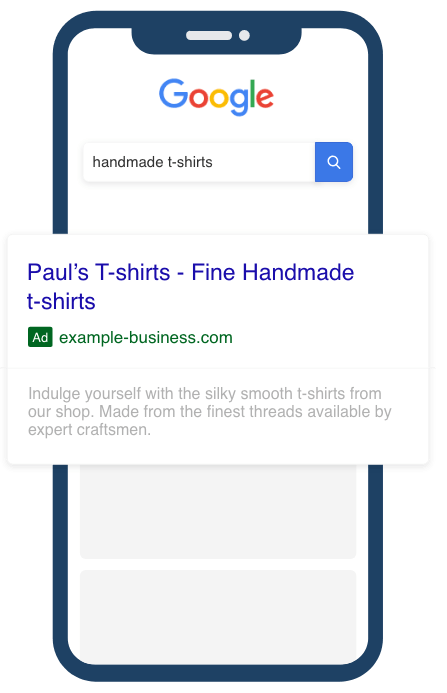 Why is Google Search Ads important?
Search Ads Management Takes You Straight to the Top: Imagine earning $2 for every $1 you spend. With innovative Google Search Ads management services, the ROI you've dreamed of can become a reality. If you want to take the market by storm, you'll need carefully-crafted adverts that appear to your customers at the right time - when they're ready to buy.
Search Ads by Google are the most prevalent form of pay-per-click (PPC) advertising. Formerly known as AdWords, these text-based ads instantly take your business to the top of Google's first page. With no time spent waiting to climb the ranks, Search Ads leave your site wide-open to get tons of targeted traffic. Here's another highlight: You only pay when someone clicks your ad!
What value Google Search Ads provides against your competitors?
Tired of watching competitors outrank you? Search Ads management services put your company on equal standing with the competition. According to Moz, 80% of search results include Search Ads, which cover a gigantic 85% of space atop each page. That puts your business above the highest organic results!
Stealing clicks from the competition is just the beginning. Search Ads give you unparalleled insight into your site's visitors in real-time. For every click your ads receive, the details of the clicker are revealed in the analytics. You'll get vital information on user location, time spent on your site, device used, which pages got the most love, and much more.
Detailed analytics are handy for more than just trivia: They show you patterns you can use to boost ROI with razor-sharp targeting. An effective digital marketing strategy has a multi-pronged approach, comprising techniques to promote different areas of your business. Search Ads are the perfect supplement to organic strategies like SEO, using its fast-acting ads to catapult your business to prominence while your organic rankings and traffic build in tandem.
How Search Ads Get Sales?
Need to put your products in front of the people who want them? Search Ads receive 65% of clicks for search phrases loaded with intent to buy. There's no other strategy with such an unrivalled scope to target customers at the moment they need you.
Search Ads hyper-target active searchers. These are people who are determined to find a particular product or service - fast.
While customers can be targeted throughout any stage of the purchasing process, Search Ads are super-effective at drawing in ready-to-buy customers.
This gives your brand a priceless platform to attract new customers in your prime demographic. Research has shown that Search Ads can increase brand awareness by up 80%, making them a potent component of any digital marketing strategy.
Why is an Expert in Google Search Ads important?
How does Search Ads management with an agency like Qemy stand out? To start with, we assess your business from top-to-bottom. This is the first step towards formulating a Search Ads management strategy that not only suits your company, but gets you closer to achieving your goals. We work with your goals in mind every step of the way, so you get results you can actually see.
If you want control of your budget, look no further. With us, you can count on keeping the reins to your campaign firmly in your hands. We maintain complete transparency, so you always know how progress is tracking. That's backed up by regular reports, which explicitly outline your progress with clear graphs and visual indicators. We keep things simple and straightforward, so you can keep complete peace of mind.