Accessible in Google Search Console, Google has listed a list of Web Vitals that impact their overall evaluation of your users page experience

In Google Search Console, page experience is a set of indicators that measure how your website users interact with a web page beyond its content. It includes 4 Core Web Vitals, which is a set of KPIs that measure real-world user experience for loading performance, interactivity, and visual stability of the page. It also includes 4 other web vitals: mobile-friendliness, safe-browsing, HTTPS, and intrusive interstitial guidelines.
3 Core web vitals
Loading : Largest contentful paint (LCP)
Largest Contentful Paint (LCP) is a Core Web Vitals metric and measures when the largest content element in the viewport becomes visible. It can be used to determine when the main content of the page has finished rendering on the screen. The most common causes of a poor LCP are: Slow server response times.
We consider a Good Largest Contentful Paint up to 2.5 seconds and Poor from 4 Seconds upwards
Interactivity : First Input Delay (FID)
First input delay (FID) measures the time from when a user first interacts with your site (i.e. when they click a link, tap on a button, or use a custom, JavaScript-powered control) to the time when the browser is actually able to respond to that interaction.
We consider a Good First input delay up to 100ms and Poor from 300ms upwards
Visual Stability : Cumulative Layout Shift (CLS)
Cumulative Layout Shift (CLS) is a Core Web Vitals metric calculated by summing all layout shifts that aren't caused by user interaction. CLS looks at the proportion of the viewport that was impacted by layout shifts, and the movement distance of the elements that were moved.
We consider a Good First input delay up to 0.1 and Poor from 0.25 upwards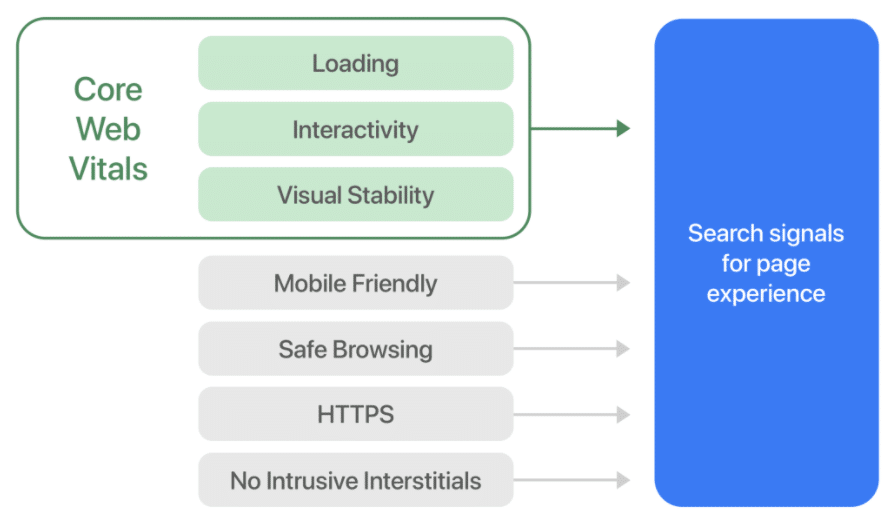 4 Other web Vitals
Mobile Friendly
Mobile Friendly vital measures if a page is mobile-friendly. You can check if your page is mobile-friendly with the Mobile-Friendly Test from Google .
Safe Browsing
Safe Browsing vital measures if a page doesn't contain malicious (for example, malware) or deceptive (for example, social engineering) content. Check to see if your site has any safe-browsing issues with the Security Issues report.
HTTPS
HTTPS vital measures if a page is served over HTTPS. You can check is your connection is secure.
No intrusive interstitials
No Intrusive interstitials vital measures if a content on the page is easily accessible to the user.
How Core Web Vitals affect your SEO?
When Google has introduce a new set of SEO signals, the Core Web Vitals, they will obviously play an important role in future search engine optimization.
At the same time, Google pointed out:"All the components of the binding are important, but even if some aspects of the page experience are inappropriate, we will give priority to the page with the best overall information.Getting a good experience on the site does not Deny the existence of excellent and relevant content.
In addition, Google declares that they will combine the signals received from Core Web Vitals with our existing search signals to provide a better browsing experience, including mobile usability and navigation security , HTTPS security, and intrusive interstitial recommendations to provide consistent preservation of page interaction… Web vitals are not all you need to run a page. If Google can't determine which website you own has the best content, they may play effect.
Qemy is a SEO agency in Dubai that can help you in your SEO strategy, feel free to reach out to us and set up a meeting for SEO assessment.